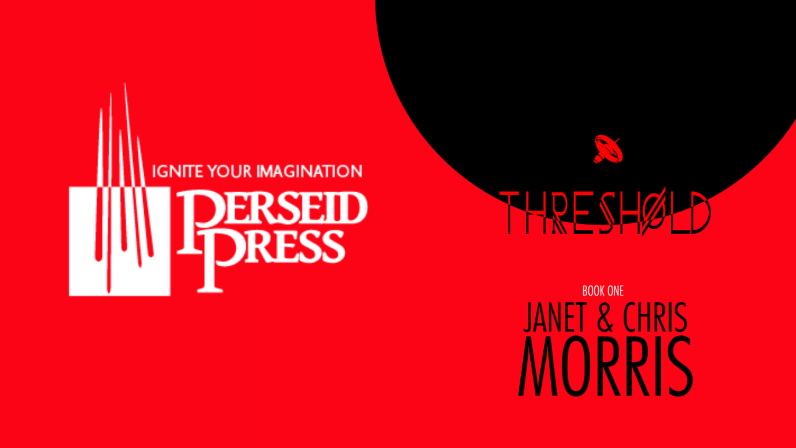 Website Banner – various book covers
Website Banner – Dream Dancer
Website Banner – Pirates in Hell
Website Banner – I The Sun
Website Banner – Silistra Quartet
Website Banner – Threshold
Website Banner – The IX Series
Website Banner – Beyond the Veil
Coming Soon!
If you weren't there, this is exactly what it was like in the eighties, with one exception, we are today just on the brink of having a space plane like MEDUSA…
The 1986 novel MEDUSA by Janet and Chris Morris will be re-released soon. Here is the original cover; be on the lookout for our new MEDUSA cover reveal.
In West Berlin, Amy Brecker, an American intelligence officer, takes a chance on a walk-in informant who says that the Soviets are going to simulate an "accident" that will cripple America's space-based defense program.
From a Soviet silo on the Sea of Japan, a single missile rises. A hotline communique from Moscow insists that a mistake has been made; the Soviets are doing everything in their power to abort the "test" flight.
Deep inside Cheyenne Mountain at the Aerospace Defense Command Center, all eyes watch its trajectory: a collision course with America's manned space lab.
If the U.S. chooses to intercept and destroy the Russian missile, the attempt must not end in failure . . . the future of America's entire space-based defense hangs in the balance. Only one US anti-satellite weapon can foil the opening gambit of what might be a Soviet First Strike—and only Amy Brecker and her "hot stick" pilot have enough of the Right Stuff to use.
Featured Series
Mystic Madness! Join the doomed on their vision quests in eleven stories by the damnedest writers in Perdition: Janet Morris; A.L. Butcher; Joe Bonadonna; Andrew P. Weston; Gustavo Bondoni; S. E. Lindberg; Tom Barczak; Michael H. Hanson; Louis Antonelli; Christopher Crosby Morris. Mystics in Hell is the latest volume in the notorious Heroes in Hell series of anthologies and novels created by Janet Morris.

Featured Title
Here is the new Author's Cut edition, revised and expanded, of the second independent full-length novel in Janet Morris' BEYOND series, far from notorious Thieves' World™. Set in Tyse, a town so mean and magic-ridden as to make Sanctuary™ seem like a singles bar, BEYOND THE VEIL features Tempus – Thieves' World most popular and misunderstood character – and introduces Kama, his warrior daughter, as well as Ranke's deservedly infamous shock troops, the Third Commando.


---
Check out some of our favorite blogs:
Get ready for a charmingly quirky romance with a twist of murder mystery in Honey Mead Murder! Honey Mead Murder Honey Bear Cosy Mysteries Book 1 by Dahlia Donovan Genre: LGBTQ MM Romance, Cozy Mystery Get ready for a charmingly quirky romance with a twist […]
Tintagel is the only place associated with King Arthur's conception and birth. The idea is not as unlikely as once thought. The post Tintagel: Historical or Legendary Birthplace of King Arthur? appeared first on Sean Poage.
This episode features "Gel Pen Notes from Generation Ship Y" written by Marisca Pichette. Published in the August 2023 issue of Clarkesworld Magazine and read by Kate Baker. The text version of this story can be found at: https://clarkesworldmagazine.com/pichette_08_23 Support us on Patreon at https://www.patreon.com/join/clarkesworld?
 Gen Con Writers Symposium 2023 – S.E. Lindberg ChroniclesGen Con Writers Symposium 2023 – Overview from the ChairPanels: Sword & Sorcery & Handling New ReleasesThe Skull from Tales from the Magician's Skull: Ziggurat, Gorgar Pinball, Shattered Lands, etc.Playtesting & Previews:  Dante, Conan, Scott Lynch, Bittcoin Hodl Up [you […]
Latest Review for The IXBy FUONLYKNEW ReviewsEver wondered what happened to those lost Roman Legionnaires? What about the US cavalry, engaged in a secret mission for President Lincoln? And whatever happened to the Special Forces Unit from a future time who disappeared during their mission […]
COBALT BLUE, Copper Dog Publishing's daring new Young Adult/Teen Sci-Fi Serial Adventure written by Wayne L. Hanson and Michael H. Hanson Click the Link below later today to read the brand new, next to last entry in this amazing saga, Episode Fifteen, "Total War" on […]
Despite the title, this is a short story, and actually on the shorter side of short. It was originally published in 1895 along with two other interwoven stories in a work called "The Three Imposters." I have not read the collection but this piece stands […]